2 new filtration units - specially designed to protect machines at the "end of the line" - appear at the 2011 rate.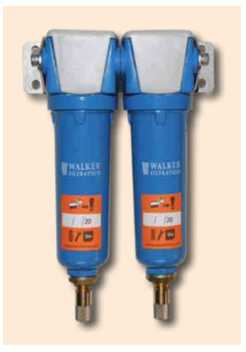 They consist of 2 filters (1 prefilter 1 micron and a submicron 0.01 ppm) each equipped with an automatic float trap.
These filters are assembled in the factory and delivered ready for wall installation thanks to the 2 metal brackets (see photo opposite).
They offer the advantage of quick installation coupled with an attractive price.
Another little bonus is that the float traps are equipped with a device allowing manual control purge.
Characteristics of the 2 models available:
KF 018 - 1/4 'connection - treated flow: 14 m3 / h at 7 bars.
KF 019 - 1/4 'connection - Processed flow: 26 m3 / h at 7 bar.
Efficiency according to ISO 8573-1 revision June 2010:
Particles: Class 2 - Residual oil: Class 1