We have chosen to present an installation produced by Sté Bignard de Rouen for one of their clients specializing in vacuum painting and the metallization of packaging bottles for the luxury industry.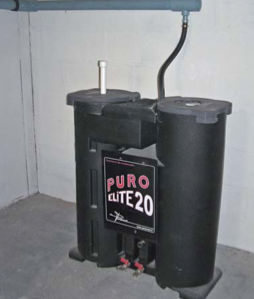 The site, which is classified as an environmentally responsible facility, has a "zero discharge" production line.
For condensate discharges, the customer obviously demanded the installation of an efficient oil/water separator.
And for good reason, classified installations must, according to the standards in force, limit the oil concentration in their discharges to 10 ppm per liter.
The design and performance of the PURO ELITE range won the favor of the client thanks to 2 major advantages:
- A guaranteed residual content of 10 ppm maximum of hydrocarbons in the discharges.
- A saturation indicator allowing replacement of the filter elements in time to maintain this performance in operation.
This last point is decisive because this indicator provides a guarantee of Screen Capture 2016-08-19 at 14.19.00 performance with an optimum operating cost. Clearly, we no longer replace the filter elements neither too early nor too late.
A visual control sample, during a routine visit, clearly showed the excellent performance of the PURO ELITE 20 separator in charge of treating a 1000 m3 / h installation equipped with a EURODRY adsorption dryer for the process air and by ACT refrigeration for "servitudes" air.