Available as an option on the PRODRY range of adsorption dryers, the PFS 01 system is software for managing energy, operating parameters, and various alarms.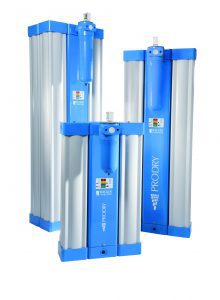 This software connects directly to the control box via the ethernet socket present as standard on the dryers.
The main advantage of this application is to control the consumption of regeneration air according to the actual compressed air demand of the installation.
This avoids inadvertent restarting of the compressors to produce air intended solely for the regeneration - not necessary - of the dryers. This is particularly advantageous on low flow installations fitted with a piston compressor.
The regulation is carried out using information (pressure or humidity from a dry contact) which is managed by the software to optimize the dryer cycle.
If the customer wishes to control or pilot the dryer remotely, the RS 232 link used as standard allows the display of the cycle as well as all the operating parameters to be displayed on the remote control screen.
Offered at a very attractive price, this software has an intuitive interface that allows its quick handling without prior training.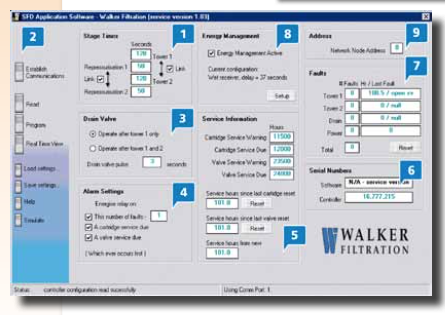 1 - Programmed cycle time.
2 - Reading / programming parameters
3 - Adjustment of the pre-filter solenoid valve purge time
4 - Alarm settings
5 - Hour meters (Maintenance - operation
6 - Serial number of dryer and software
7 - Storage of faults.
8 - Switching on the energy saving mode
9 - Number of the dryer on the network