For compressed air professionals, it is essential to be able to control the dew point of installation. What could be more normal than reassuring the customer about the proper functioning of his dryer, an essential organ for the quality of his production.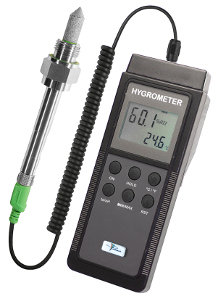 The new portable hygrometer HPM 60, allows to determine in a simple and precise way the value of this dew point in a range going from -60 ° C to + 20 ° C.
Its maximum allowable pressure is 50 bars (Probe fixed on fitting) or 16 bars (with measuring chamber).
This instrument displays at the user's choice:
- The pressure dew point
- Absolute humidity
- Relative humidity
- The temperature of the compressed air
It is provided with a USB serial output for connection to a laptop in order to record the measurements made.
Its thin polymer film sensor allows great stability over time and requires only a verification check every 2 years.
Designed for use "in the field" it comes complete with all the essential accessories:
- Calibrated flow measurement chamber with quick coupling (Photo opposite)
- Line purge valve
- Sensor preheating for quick measurement in cold environments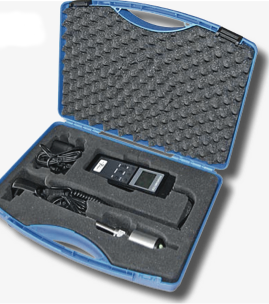 - Power adapter for continuous measurements over long periods.
- Data acquisition program via the serial interface.
All in a shock-protected transport case.
The documentation is available on our website in the news section.
Do not hesitate to ask your sales representative for more information or a presentation of this new hygrometer...