It is hardly conceivable today to operate a heat-free adsorption dryer not equipped with an energy saver.
2 major reasons for this: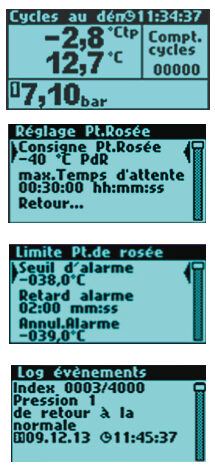 The need to limit the consumption of compressed air dedicated to the regeneration of the desiccant.
Knowledge and control of the actual dew point delivered by the dryer for quality and traceability purposes.
The COMPUDRY perfectly meets these 2 requirements while offering a number of additional features:
- Dew point adjustable by the user according to his needs
- Advanced alarm management.
- 4-20mA output for remote control.
- Slave control of the compressor.
- Real time clock.
- Memorization of the last 4000 events.
- Management of maintenance periods
This economizer is also available also in version "Plus", it then makes it possible to monitor and manage the alarms on the pressure and the temperature of the compressed air at the inlet of the dryer. Any alarm or drift of these parameters will also be recorded and dated in the register of the last 4000 events. Guaranteed traceability!
A complete and efficient economizer, easy to use!
There is no point in having an instrument, however powerful it may be, if it is of a complexity that puts off its use.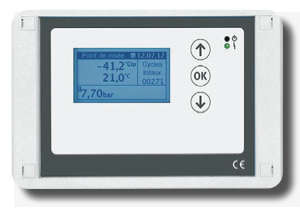 COMPUDRY is simple and intuitive to use!
2 keys are used to navigate the menus, quickly access the pages and parameters desired and then modify their value.
A "OK" key validates the chosen parameter.
Installed and tested in the factory before shipment, it is immediately operational without prior adjustment.
A competitive price for a quick return on investment!