The range of AFR forced air final refrigerants is used to cool the compressed air to a temperature of 10 ° C above ambient temperature. But did you know that this range is also available in the pneumatic piloting version?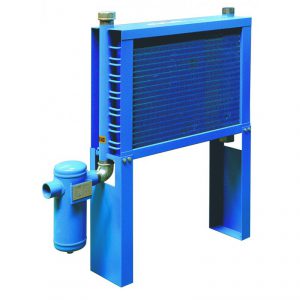 This option, which eliminates all electrical power, is particularly suitable for outdoor or mobile applications (Construction sites, itinerant skids ...)
The range covers flow rates between 220 and 3100 m3 / h. (Distributed on 11 models)
All refrigerants are delivered complete with:
- Pneumatic fan motor.
- Engine supply pressure regulator.
- Lubricator.
- Fixing feet
- Condensate separator.
The addition of a float trap with level detection by float (Type SGC20 for example) ensures the evacuation of condensates, also without the supply of electricity.